The Tracker divides your organisation's potential activities into 12 areas: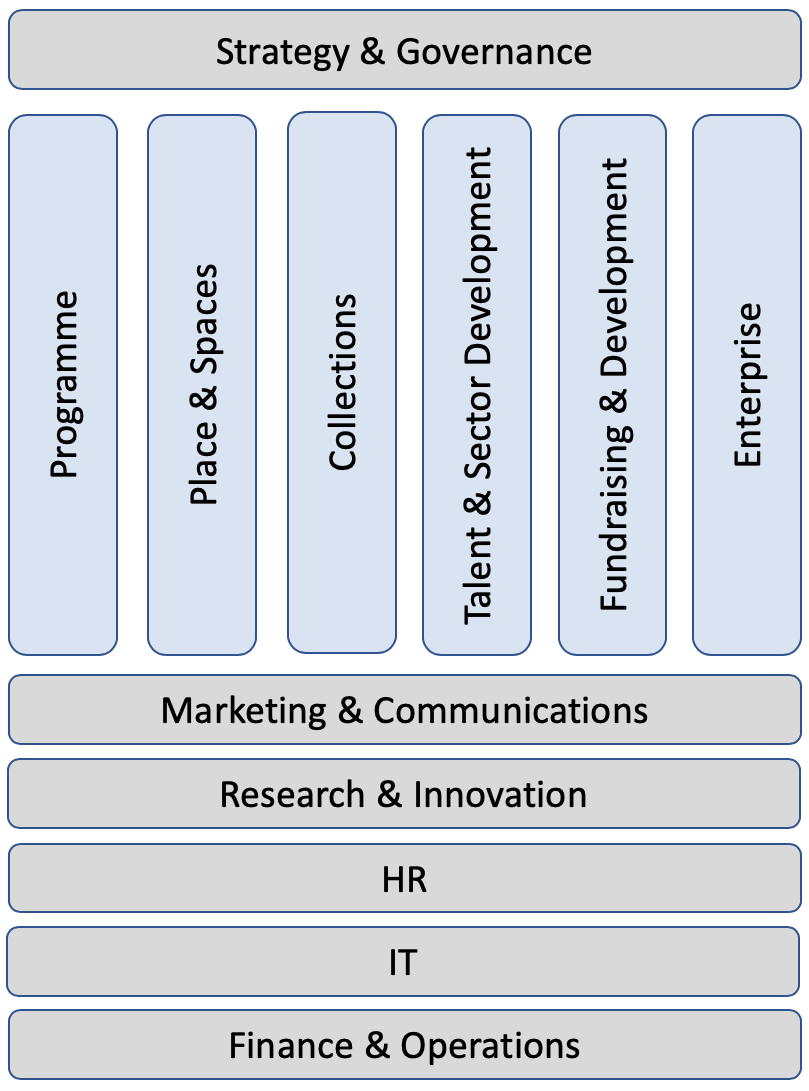 In this diagram "core areas" are represented by blue vertical bars and some of these areas will usually be at the heart of your organisation's purpose. "Support areas" are represented by grey horizontal bars.  These enable core activities to happen effectively or, in the case of Strategy & Governance, give those core activities direction and structure. 
We've distinguished between the two types of areas in our diagram to help visualise the typical structure of an organisation's activities. But they aren't differentiated in the Tracker itself: all areas are assessed in the same way (and appear in a slightly different order). Each area is given equal weighting in the overall picture of digital maturity. You need to decide which areas are more important when deciding targets for improvement in your organisation.
Here are some questions to consider about the 12 areas:
Are all areas relevant to me?
No. The Tracker is designed for a wide range of types and sizes of cultural organisation, often with very different missions, activities and circumstances. This means that there are unlikely to be any organisations where all 12 areas of the Tracker are applicable. When completing an assessment, you will select which areas are "Applicable" to your organisation and can then skip the other areas.
How have the areas been decided?
The 12 areas in the framework have been created by grouping types of activities that might:
Be undertaken by the same individual(s) in an organisation
Represent recognised areas of professional practice
Share similar characteristics or processes
Share similar technologies or systems
The scope of the areas has also been refined based on testing in workshops across the UK with representatives from more than 80 different cultural organisations.
How do the areas relate to my organisation's structure?
The areas will not necessarily reflect the structure of departments or teams in your organisation. One team might cover activities in several areas or part of an area. If your organisation is small, you may have no teams or departments and a single individual may be working on activities across several areas.
So, when you are gathering input to complete the Tracker, always consider the range of people who may be best placed to comment on the digital elements in each area.
---
Defining the 12 areas 
The 12 areas are defined as follows:
Strategy and Governance
How your organisation develops its strategy and oversees its delivery, including decision-making and prioritisation of resources. Unincorporated organisations may have less formal strategy and governance, but it will still be present in some form.
Core Areas
Programme
The artistic, cultural or heritage programme(s) of your organisation, e.g. performances, exhibitions, festivals, workshops, events or other experiences. How they are commissioned, curated, developed, produced, co-created and interpreted. How audiences, visitors or participants view, engage, experience, learn or participate in them.
Places & Spaces
Managing, occupying, owning and leasing: building(s); performance, exhibition and event venues; monuments; heritage assets, natural and designed outdoor spaces and landscapes and other public amenities; large objects linked to industrial, maritime and transport history.
Collections
Developing, caring for, documenting and using collections in museums, libraries and archives. Collections can include physical items, digital copies of them and data about both. They increasingly include 'born-digital' material and intangible cultural heritage, recorded in audio, video and other media that can be managed as digital assets.
Talent & Sector Development
Providing training, capacity building and development support for people outside your organisation.
Fundraising & Development
Raising money (e.g. grants, donations and sponsorship) and in-kind contributions to support your objectives. Managing relationships to enable this, including liaising with funders about the delivery of funded activities.
Enterprise
Income-generating activities that are not central to your artistic, cultural or heritage programme, e.g. hospitality, space hire, merchandising, licensing or the sale of consultancy services.
Support areas
Marketing & Communications
Reaching, communicating, engaging, and building relationships with target groups, including audiences, visitors and other important stakeholders, to achieve your objectives, including income generation.
Research & Innovation
Audience research, market research, evaluation of activities and other forms of applied research. Experimental development of new products, services, experiences or ways of working. Activities may be internal or include external academic or commercial research partners.
HR
Recruitment, management, training and development of your staff, contractors, freelancers, volunteers and other members of your wider team.
IT
Management of information technology and systems across your organisation.
Finance & Operations
Management of finances, office/worksites, operational processes and legal affairs.
If you haven't already, we recommend reading our Quick Guide to using the Tracker.